Pot is maybe the least cool it's ever been. Prices for Small Cannabis futures are down 14% since their launch in June, and pot stocks like SNDL, HEXO, and TLRY are down more than 50% from this year's highs back in February.*
Many are starting to write off the formerly burgeoning stock sector completely as it reaches territory travelled just 25% of the time in the last three years.** But could there be growth potential for those willing to hold pot stocks through their current rough patch?
How Low Can Pot Go?
The potential downside in stocks, and thus stock futures as well, is usually $0, but a more realistic view might be where pot stocks bottomed out prior to their day in the sun. Since Small Cannabis futures have only been around for a few months, this picture can be painted with historical prices in a few of the index's top components.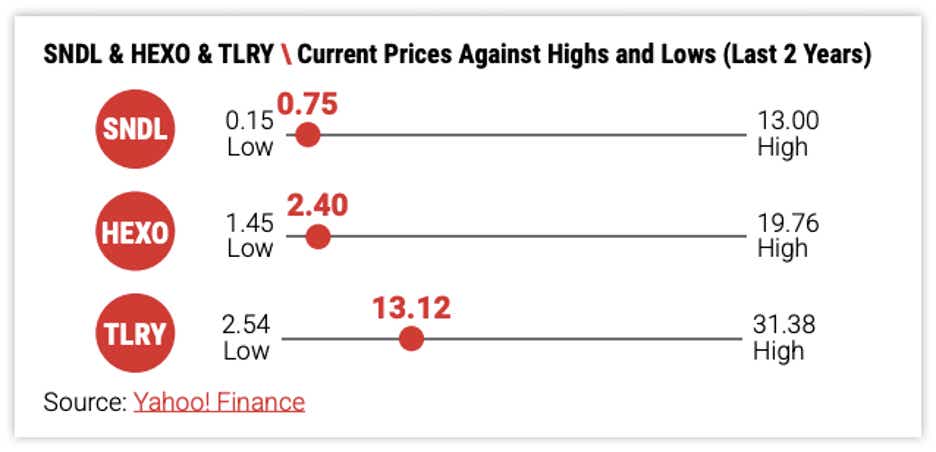 Source: Yahoo! Finance (https://finance.yahoo.com/)
Has it been worse? Yes. However, the pessimistic sentiment surrounding cannabis and the likelihood of its products to gain further legality has brought the companies dealing in the space quite close to pre-potmania prices.


Relieve the Potential Pain with Options
If you think pot prices will rebound immediately, then buying the futures outright could pose the greatest profit potential; but those thinking it might take a while can bide their time with options.
S420 Index & MJ \ Cut from the Same Plant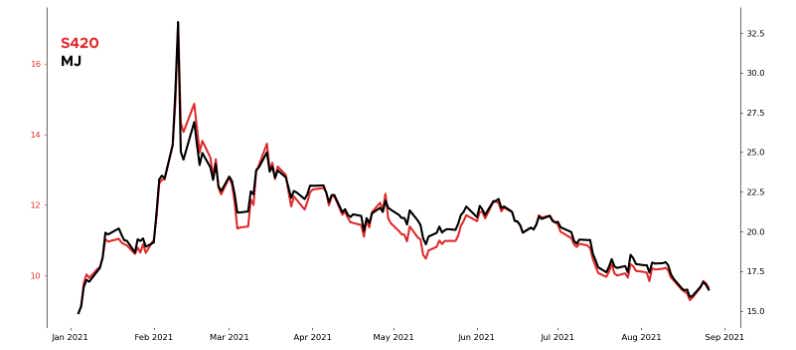 Source: dxFeed Index Services (https://indexit.dxfeed.com) and Yahoo! Finance (https://finance.yahoo.com/)
Alternative Harvest ETF MJ poses a high correlation and similar size to Small Cannabis, while S420 poses a relatively reduced cost to buy the pot stocks themselves. Traders can go to the October options expiration in MJ to sell calls against their S420 longs in the interest of reducing cost basis and defending against short-term risk.
+2 S420 Futures -1 MJ 17 Call

Breakeven

Potential

9.00

$135
Values taken on 8/26/21
Pot might not be cool again for a little bit, but it could offer greater potential than markets like Ethereum and AMD that are part of the current zeitgeist.
Follow us on Twitter: https://twitter.com/small_exchange
Subscribe to our YouTube Channel: https://www.youtube.com/channel/UC5pAsul3H_7FYuPmZscClrA
*Data as of 8/26/21
**Price of MJ in lowest 25th percentile of prices since inception (2/9/18)
© 2021 Small Exchange, Inc. All rights reserved. Small Exchange, Inc. is a Designated Contract Market registered with the U.S. Commodity Futures Trading Commission. The information in this advertisement is current as of the date noted, is for informational purposes only, and does not contend to address the financial objectives, situation, or specific needs of any individual investor. The risk of loss in the trading of stocks, options, futures, and ETFs can be substantial. Trading in stocks, options, futures, and ETFs is not suitable for all investors. Trading futures involves the risk of loss, including the possibility of loss greater than your initial investment.