With two cryptocurrencies - Bitcoin and Ethereum - now well above $100 billion in market capitalization and the former nearing $1 trillion, it appears as though all this crypto stuff isn't going away. In fact, a whole industry has sprouted up around crypto with several publicly traded companies dealing directly in the space, and many of them have seen similar upside to the coins themselves.
Crypto Stock & Bitcoin Performance (2020-Present)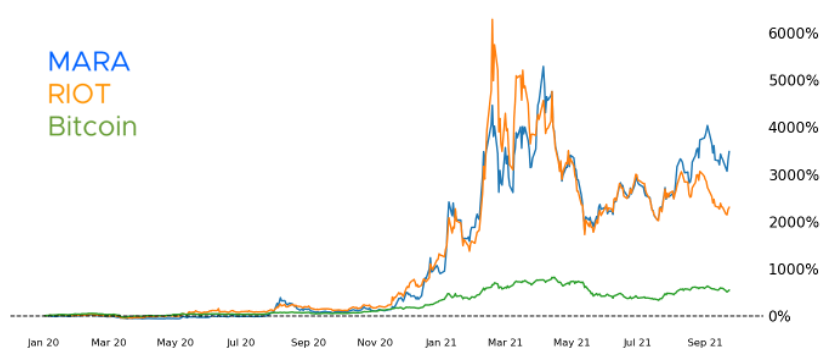 Source: Yahoo! Finance (https://finance.yahoo.com/)
The Small Exchange has joined 17 securities in the crypto sector to create the first stock index totally devoted to the area. Futures on the Small Cryptocurrency* Index are due to arrive October 4th, and they expect to correlate highly to price action in both Bitcoin and Ethereum all at a smaller size and cost to existing Bitcoin and Micro Bitcoin futures.
Last Monday in Bitcoin and Small Cryptocurrency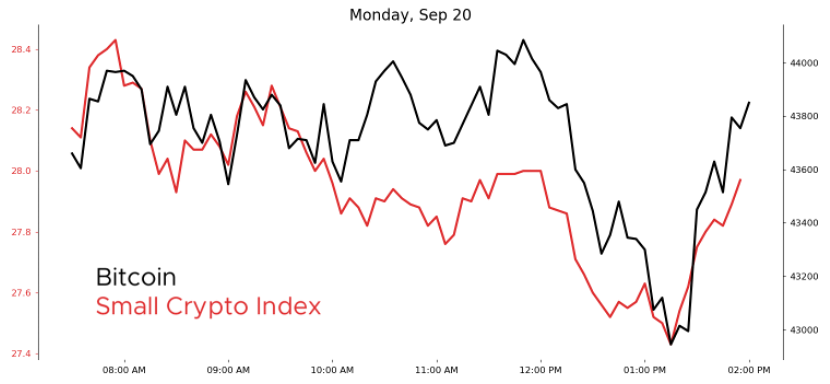 Source: Yahoo! Finance (https://finance.yahoo.com/) and dxFeed Index Services (https://indexit.dxfeed.com)
Small Cryptocurrency Index Components

Name

Symbol

Weight

Correlation to BTC

Advanced Micro Devices

AMD

6.2%

+0.3

Canaan

CAN

6.1%

+0.6

CleanSpark

CLSK

4.6%

+0.3

Coinbase

COIN

5.7%

+0.7

Ebang

EBON

4.8%

+0.5

Grayscale Bitcoin

GBTC

7.0%

+0.9

Grayscale Ethereum

ETHE

8.7%

+0.8

Marathon Digital

MARA

7.2%

+0.6

MicroStrategy

MSTR

5.6%

+0.7

NVIDIA

NVDA

6.0%

+0.3

PayPal

PYPL

5.3%

+0.3

Riot Blockchain

RIOT

5.1%

+0.6

Silvergate

SI

5.6%

+0.5

SOS

SOS

4.7%

+0.5

Square

SQ

5.9%

+0.4

Taiwan Semiconductor

TSM

5.4%

+0.3

The9

NCTY

6.0%

+0.5
Data as of 9/2/21
It may not be a new shiny coin, but it is a step in the right direction for an industry so new and exciting that exchanges have yet to present the trading public with a smaller way to gain crypto exposure.
Follow us on Twitter: https://twitter.com/small_exchange
Subscribe to our YouTube Channel: https://www.youtube.com/channel/UC5pAsul3H_7FYuPmZscClrA
*Small Cryptocurrency pending, and subject to, all relevant CFTC filings
© 2021 Small Exchange, Inc. All rights reserved. Small Exchange, Inc. is a Designated Contract Market registered with the U.S. Commodity Futures Trading Commission. The information in this advertisement is current as of the date noted, is for informational purposes only, and does not contend to address the financial objectives, situation, or specific needs of any individual investor. Trading in options, futures, and ETFs is not suitable for all investors. The risk of loss in the trading of options, futures, and ETFs can be substantial. Trading in derivatives and other financial instruments involves risk. Trading futures involves the risk of loss, including the possibility of loss greater than your initial investment.