Whether you prefer to buy something that's up 100% or down on the year can say a lot about you as a trader. It's the classic contrarian vs trend follower debate, and it's playing out in spades among two of this decade's most novel markets: cannabis and crypto.
MJ & BTC \ Pot Stock & Bitcoin Performance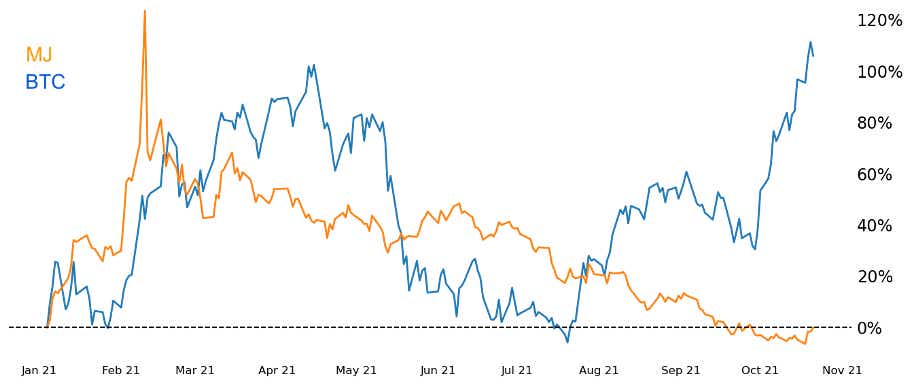 Source: Yahoo! Finance (https://finance.yahoo.com/)
Both Bitcoin and pot stock ETF MJ rose 100% in the early part of the year only to fall back to unchanged; the former has eclipsed those elevated levels in recent trade, while the latter is sitting near its lows.
Pot Stock Performance
Though the two do, albeit surprisingly, boast a positive correlation, it might not be prudent for contrarians to play convergence between cannabis and cryptocurrencies or for trend followers to play further divergence.
Pot Stock Performance by Month

Jan

Feb

Mar

Apr

May

Jun

Jul

Aug

Sep

+28%

+17%

-5%

-7%

-1%

-5%

-13%

-7%

-13%
Source: MJ data from Yahoo! Finance (https://finance.yahoo.com/) as of 10/13/21
Focusing on cannabis as a standalone opportunity could show potential for both sides as a simple price extreme play. The do-or-die moment for pot stocks might pose an asymmetric return relative to risk given that they haven't posted a positive month in the last seven and many single names are under $10.
Micro Futures vs Small Futures
What's better than buying a market (potentially) on the cheap? Doing so with the capital efficiency of futures! Small Cannabis futures not only share a +0.9 correlation to MJ shares,* but they also only require 20% of the product's size in capital to trade.†
Margin Requirement for Bitcoin, Stock, and Pot Futures

Micro Bitcoin Futures

Micro S&P 500 Futures

Small Cannabis Futures

$3,800

$1,200

$187
Source: CME Group (https://cmegroup.com) and Small Exchange (https://smallexchange.com) as of 10/21/21
Inventorying this out-of-fashion stock sector while waiting for it to reach in-vogue status once again can be much less costly than doing so with hot crypto or tech stock markets.
Every so often, trend followers and contrarians can adjourn their rivalry and get on the same side of a major market extreme. Who knew pot could promote peace?
Follow us on Twitter: https://twitter.com/small_exchange
Subscribe to our YouTube Channel: https://www.youtube.com/channel/UC5pAsul3H_7FYuPmZscClrA

*Data from Yahoo! Finance (https://finance.yahoo.com) and dxFeed Index Services (https://indexit.dxfeed.com) as of 10/21/21
†Margin and Product Size taken from Small Exchange (https://smallexchange.com) on 10/21/21
© 2021 Small Exchange, Inc. All rights reserved. Small Exchange, Inc. is a Designated Contract Market registered with the U.S. Commodity Futures Trading Commission. The information in this advertisement is current as of the date noted, is for informational purposes only, and does not contend to address the financial objectives, situation, or specific needs of any individual investor. The information presented here is for illustrative purposes only, and is not intended to serve as investment advice since the availability and effectiveness of any strategy is dependent upon your individual facts and circumstances. Futures are financial contracts to buy or sell an asset at a set price on a set date in the future. Exchange-traded funds (ETFs) are tradable products made up of securities, such as stocks. A stock is a security that represents an ownership position in a corporation. Trading in derivatives and other financial instruments involves risk.