When you go to buy something in the market, an innate sense of fear can kick in just long enough to delay your purchase by a few seconds:
What if the market moves lower? What if it moves lower by A LOT?? What if the market GOES TO $0?!?
Though markets outside of penny stocks actually reach $0 with great rarity, the risk is real and should be treated as such. So, how can you mitigate it? Here are two easy ways to adjust your risk when trading futures.
1. Understand Futures Sizing & Available Products
The first, most obvious way to reduce risk in your long strategies is by reducing the number of dollars that stand between your entry price and $0. Take, for example, last week's crash in metals.
SPRE \ Small Metals Futures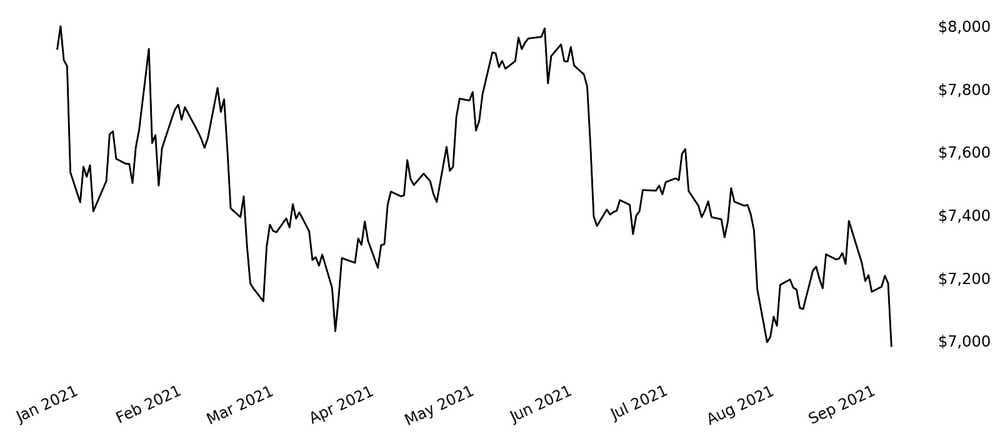 Simply starting with a smaller futures product (like mini, micro, or small futures) can help take the edge off when stressing your next big buy. Not only are futures capital efficient, but they are also the most direct way for retail traders to access commodities like metals, and there are Gold futures, Micro Gold futures, and Small Precious Metals futures.
Distance from Here to $0

Gold Futures

Micro Gold Futures

Small Metals Futures

$175,000

$17,500

$7,000
2. How to Hedge a Futures Trade with Options
After reducing size, you can offset exposure while adding daily theta decay with options. Selling 30 delta's worth of calls in a highly correlated ETF like GLD can make all the difference, and, in this example, it would theoretically bring a $1,000 range down to $700 so far in 2021.
SPRE \ Small Metals Futures with 30% Hedge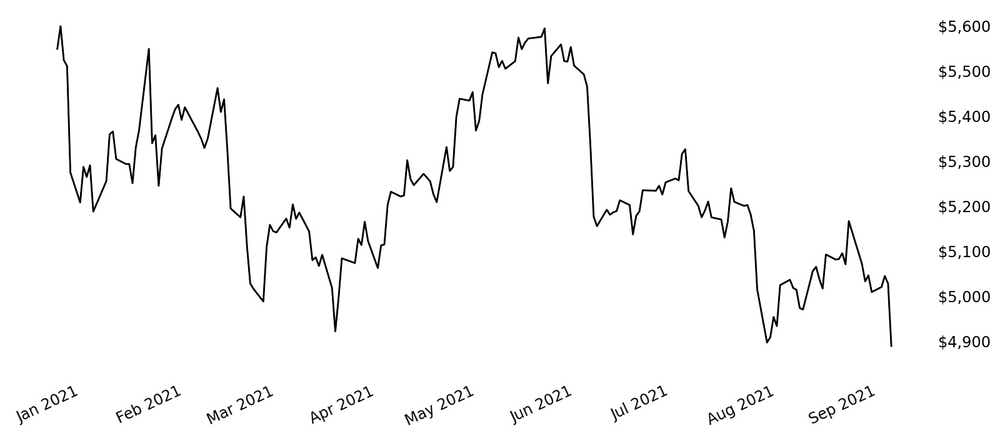 The math relating SPRE futures to GLD options ([Small Price/ETF Price]*Delta Hedge) translates to about 13 deltas in short GLD call options, which can easily be done via a vertical credit spread.
Last-minute fear must be overcome to jump on long opportunities that arise amid a crash. While that feeling may always be there, your reluctance can be quelled by the right product and hedge.
---
Follow us on Twitter: https://twitter.com/small_exchange
Subscribe to our YouTube Channel: https://www.youtube.com/channel/UC5pAsul3H_7FYuPmZscClrA
© 2021 Small Exchange, Inc. All rights reserved. Small Exchange, Inc. is a Designated Contract Market registered with the U.S. Commodity Futures Trading Commission. The information in this advertisement is current as of the date noted, is for informational purposes only, and does not contend to address the financial objectives, situation, or specific needs of any individual investor. Trading in options, futures, and ETFs is not suitable for all investors. The risk of loss in the trading of options, futures, and ETFs can be substantial. Trading in derivatives and other financial instruments involves risk. Trading futures involves the risk of loss, including the possibility of loss greater than your initial investment.