SKEW & ZEBRA Implications
When setting up a ZEBRA, we want to focus on the most important aspect of the trade - removing extrinsic value from the equation. When we do this, we get as close to 100 deltas as possible, and we don't limit ourselves in profitability if we are directionally right.
If our ZEBRA slides deeper ITM on a directional move in our favor and we paid $500 in extrinsic value on the setup because we wanted a cheaper trader, we would lose that $500 in extrinsic value as we slide deeper ITM and it would dampen our profit potential. Also, if the stock doesn't move at all, we still lose that $500 over time as extrinsic value decays to zero.
It's important to note that SKEW will affect the entry price of the ZEBRA since we are working with extrinsic value in the options we're trading. SKEW represents a difference in extrinsic value with equidistant OTM options and tells us where the market perceives a potential high velocity move to be. In SPY, there is put skew, since SPY markets tend to grind higher and crash down. This means that OTM puts trade for much more than equidistant OTM calls: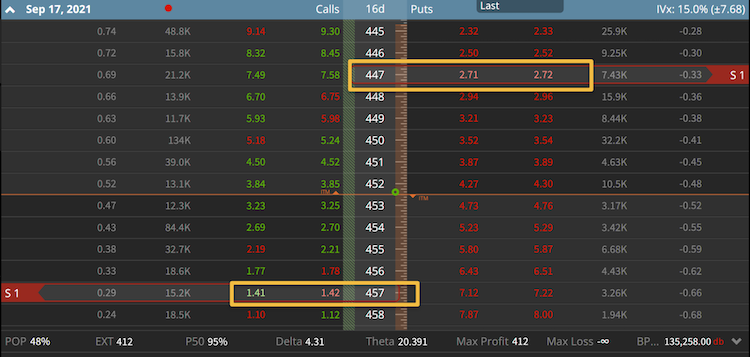 As you can see in the example above, you can see that the 447 put is trading for around $2.71, where the 457 call is only trading for $1.41. Both of these options are 5 points OTM, but the put is trading for almost twice the extrinsic value.
If I'm placing a call ZEBRA, I'm going to have to slide my options deeper ITM to remove extrinsic value from the trade, which will result in a more expensive setup.
If I'm placing a put ZEBRA, I won't have to slide my options deep ITM at all to remove the extrinsic value, since an ITM long put option will have a similar extrinsic value as the same strike OTM call option. This results in a cheaper setup than the opposing call ZEBRA.
To remove extrinsic value from a ZEBRA on the setup, just ensure that the extrinsic value you're collecting from selling the ATM option is equivalent to the TOTAL extrinsic value you're paying for in the 2x long options you're buying ITM. In other words, ensure the extrinsic value associated with your long strike is ½ the premium associated with the ATM option you're selling.